---
MUESLI library
---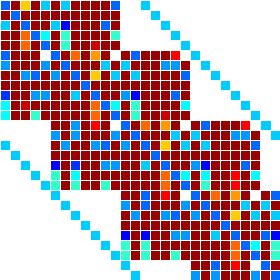 What is MUESLI?
MUESLI is a free numerical and graphical library, written mainly in Fortran 95 and developped by Édouard Canot.

For a first introduction, see the User Guide.

The available release is numbered 2.12.11 and dated 2018-06-25.

for Linux systems, contrary to the past, only two Fortran 95 compilers are supported:

GNU gfortran, version ≥ 4.8 (version numbers 4.8 to 8 are ok)
INTEL ifort, version ≥ 13 (version numbers 11 and 12 may work, but are no longer supported)

Please use the whole unix sources archive.


for a Windows system, MUESLI is intended to be used under MinGW-w64; refer to this Windows page providing binary files for MinGW (32- or 64-bit).



MUESLI can be also used on Mac OS X. Recent version of Mac OS X should be ok. Refer to this Darwin page for further information.
MUESLI needs also a C and a C++ compiler. GCC and INTEL actually constitute compiler suites, which provide their own C and C++ compilers.

BLAS / LAPACK must be available on the target machine. The following versions (older ones may or may not work) are recommended: 3.4.2 (Sep 25, 2012), 3.5.0 (Nov 16, 2013), 3.6.1 (Jun 18, 2016), 3.7.1 (Jun 25, 2017), or 3.8.0 (Nov 12, 2017).
They can be get here. Caution: versions 3.2.0 and 3.4.0 lead to either run-time error or wrong results in MUESLI. [For example, Mac OS X Yosemite provides Lapack-3.2.1, which is too old and not adapted to Muesli]
Moreover, the user should also fix the Lapack bug number 114 (a stack corruption may occur, see here; this holds for 3.4.2 and 3.5.0 versions only).
Sometimes, it may be necessary to compile yourself the Blas/Lapack library (some erroneous floating-point exceptions have been reported).

The numerical part (FML) contains more than 385 user-available routines and around 2810 unitary tests. As far as we know, this whole numerical library doesn't contain any memory leak (thanks to valgrind).

However, it is not thread safe.

Documentation:
The Installation Guide and the Reference Manual can also be downloaded.


Recent news:
2018-06-25: Release of the 2.12.11 version. 'mfGradient' extended to 2-rank mfArray. New 3rd-order derivative and periodic boundary conditions for 'mfSpline'. New optional argument 'append' for 'msSaveAscii', which can write an mfArray at the end of an existing file. Double integration implemented ('mfDblQuad'). 'mfSimpson' improved: now, the abscissa vector doesn't need to be equally spaced. Lastly, Finite-difference jacobian generation fixed for 'mfLsqNonLin'.
2018-05-18: Release of the 2.12.10 version. New '.and.' and '.but.' operators for integer sequences used in 'mfGet' and 'msSet'. New mfPPDer routine which returns the derivative of a piecewise polynomial function.
2018-04-06: Release of the 2.12.9 version. 'mfInterp' routines improved (both 1D and 2D interpolation). New derived type 'mf_Int_List' for manipulating and displaying integer lists. Updated 3D Delaunay tools (4 new routines).
2017-10-31: Release of the 2.12.8 version. New routines msBar and msErrorBar implemented. Configure script fixed for Ubuntu-17.10, and Fedora 24, 25, 26. About FileIO, new routine 'msLoadSparse()' added in order to get a sparse matrix and its right-hand-side vector from an HBO file. Improved detection of NaN values in some routines of the 'Optimization and Function functions' module. Fix the main Makefile for building the whole library under MacOS.
2017-08-29: Release of the 2.12.7 version. Few internal Muesli variables was not declared as private in the FML module, which prevented the user to use simple names: fixed. Improvements in the configure script, which better handles ZLIB and LIBPNG libraries. Redesign of the FSolve routine, which supports now sparse jacobian matrices. More features in the routine SpImport. Many bugs fixed in FML and FGL.
2017-06-29: New Binary version is provided for MinGW under Windows 64bit (we recall that FGL is partially available under Windows, i.e. only the non-interactive routines). See the Windows page.
older news can be found here.

For any question, please contact the author:
Mail:



Come back to the author web page.
Last page modification: 2018-06-25