---
MUESLI library
---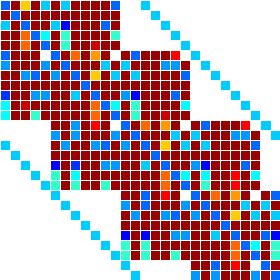 What is MUESLI?
MUESLI is a free numerical and graphical library, written mainly in Fortran 95 and developped by Édouard Canot.

For a first introduction, see the User Guide.

The available release is numbered 2.17.12 and dated 2021-06-24.

for Linux systems, contrary to the past, only two Fortran 95 compilers are supported:

GNU gfortran, version ≥ 4.8 (version numbers 4.8 to 10 are ok)
INTEL ifort, version ≥ 13 (version numbers 11 and 12 may work, but are no longer supported)

Please use the whole unix sources archive, or use binary versions: see the packages for Ubuntu and those for Fedora .


for a Windows system, MUESLI is intended to be used under MinGW-w64; refer to this Windows page providing binary files for MinGW (32- or 64-bit).


MUESLI can be also used on Mac OS X. Recent versions of Mac OS X should be ok. Refer to this Darwin page for further information.
MUESLI needs also a C and a C++ compiler. GCC and INTEL actually constitute compiler suites, which provide their own C and C++ compilers.

BLAS / LAPACK must be available on the target machine. The following versions (older ones may or may not work) are recommended: 3.6.1 (Jun 18, 2016), 3.7.1 (Jun 25, 2017), 3.8.0 (Nov 12, 2017), 3.9.1 (Apr 1, 2021) or 3.10.1 (Apr 12, 2022).
They can be get here.

The numerical part (FML) contains more or less 400 user-available routines and around 3000 unitary tests. As far as we know, this whole numerical library doesn't contain any memory leak (thanks to valgrind).

However, it is not thread safe.

Documentation:
The Installation Guide and the Reference Manual can also be downloaded.


Recent news:
2021-06-24: Release of the 2.17.12 version. After a long time of development and a big jump in the numbering, this new release contains some major performance improvements in the graphic part FGL, especially a smooth behavior when using the interactive routines to scroll inside the figure (msPan) or to move the legend frame or other graphic objects with the mouse (msMoveLegend and the new routine msMoveGrobj). msDrawNow renamed to msRedrawFigure, and msColormapRange renamed to msColormapSize. The new routine msAnimation should give smoother animations on screen. New options added for msAxis. The numerical part FML has been also improved, by adding new routines (mfGetAllGrObj, mfGetTypeGrObj, ..., mfRandPoiss, mfGridFun) but be aware that some routines have seen their API changed (order or name of arguments), as msMeshGrid and msGradient. The only 3D graphic routine msSurf has been completely removed: Muesli FGL is now restricted to 2D plots only, but, as a partial compensation, msPcolor has new options to make projections of a surface in the three canonical directions of the 3D space.
2020-02-15: Release of the 2.15.11 version: Streamline algorithm has been improved (better reliability). Few bugs fixed.
2020-01-24: Release of the 2.15.10 version: apart many bugs (mfErfCInv, ...) and many improvements (prime numbers computation, msSet, msCAxis, msQuiver, msArrow, msPatch, ...), the following FGL routines have been added to Muesli: mfIsSorted, msStreamline, msTriStreamline and msTriMesh. Another modification concerns the complex numbers, which are now sorted first by module, then by phase angle.
older news can be found here.

For any question, please contact the author:
Mail:


Come back to the author web page.
Last page modification: 2022-05-25