---
MUESLI library
---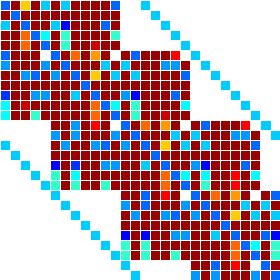 What is MUESLI?
MUESLI is a free numerical and graphical library, written mainly in Fortran 95 and developped by Édouard Canot.

For a first introduction, see the User Guide.

The available release is numbered 2.12.7 and dated 2017-08-29.

for Linux systems, contrary to the past, only two Fortran 95 compilers are supported:

GNU gfortran, version ≥ 4.8 (version numbers 4.8 to 7.1 are ok)
INTEL ifort, version ≥ 13 (version numbers 11 and 12 may work, but are no longer supported)

Please use the whole unix sources archive.


for a Windows system, MUESLI is intended to be used under MinGW-w64; refer to this Windows page providing binary files for MinGW (32- or 64-bit).



MUESLI can be also used on Mac OS X, but currently it has been only tested on a Yosemite (10.10) version. Recent version of Mac OS X should be ok. Refer to this Darwin page for further information.
MUESLI needs also a C and a C++ compiler. GCC and INTEL actually constitute compiler suites, which provide their own C and C++ compilers.

BLAS / LAPACK must be available on the target machine. The following versions (older ones may or may not work) are recommended:
3.3.1 (Apr 18, 2011),
3.4.2 (Sep 25, 2012),
3.5.0 (Nov 16, 2013),
3.6.1 (Jun 18, 2016), or
3.7.1 (Jun 25, 2017).
They can be get here. Caution: versions 3.2.0 and 3.4.0 lead to either run-time error or wrong results in MUESLI. [For example, Mac OS X Yosemite provides Lapack-3.2.1, which is too old and not adapted to Muesli]
Moreover, the user should also fix the Lapack bug number 114 (a stack corruption may occur, see here; this holds for 3.4.2 and 3.5.0 versions only).
Sometimes, it may be necessary to compile yourself the Blas/Lapack library (some erroneous floating-point exceptions have been reported).

The numerical part (FML) contains more than 385 user-available routines and around 2670 unitary tests. As far as we know, this whole numerical library doesn't contain any memory leak (thanks to valgrind).

However, it is not thread safe.

Documentation:
The Installation Guide and the Reference Manual can also be downloaded.


Recent news:
2017-08-29: Release of the 2.12.7 version. Few internal Muesli variables was not declared as private in the FML module, which prevented the user to use simple names: fixed. Improvements in the configure script, which better handles ZLIB and LIBPNG libraries. Redesign of the FSolve routine, which supports now sparse jacobian matrices. More features in the routine SpImport. Many bugs fixed in FML and FGL.
2017-06-29: New Binary version is provided for MinGW under Windows 64bit (we recall that FGL is partially available under Windows, i.e. only the non-interactive routines). See the Windows page.
2017-05-22: Release of the 2.12.4 version. Modification of the arg names of 'mfATan2' to be more clear: (X,Y) instead od (A,B). Any unwanted arg in 'mfOut' can be replaced by the keyword MF_NO_ARG. 'msReshape' routine (in-place version) now works for sparse matrices. Update ARPACK-NG library from 3.1.3 to 3.5.0. When using the ODE/DAE solvers, the user can name by groups not only his equations, but also his variables.
2017-05-06: Release of the 2.12.3 version. New FML routine 'msSmooth'. Added order 3 interpolation, both in 1D or 2D ('mfInterp1' and 'mfInterp2'). Messages on terminal are now colored. Few improvements or bugs fixed here and there. 'meditor' graphics tools has been ported from Qt3 to Qt4, and 'msEdit' works again.
2017-03-22: Release of the 2.12.1 version. Fixed or improved many routines of FML (LsqNonLin, Ode/DaeSolve) and FGL (msLegend, Pcolor, ImRead, ColorBar). In FGL, the color palette 'krahina' has been renamed 'fusion'.
2016-12-15: Release of the 2.11.3 version. Improvements of many routines, both in FML (mfGet, msSet, msFormat, mfLoadAscii, mfInterp1, mf_DE_Options, PDF documentation) and FGL (msPatch; few bugs fixed). Added Delaunay 3D (i.e. tetrahedra) set of routines. New mfExpInt routine (exponential integral).
2016-06-14: Release of the 2.11.1 version. New mfFun routine
(apply element-wise any user-defined functions to an mfArray). Improvements and bug fixes in FGL, especially in the following interactive routines: msZoom, msPan, msPanAndZoom (fixed behavior of Log axes and presence of a legend).
2016-05-15: Release of the 2.11.0 version. Support of Darwin (Mac OS X, Yosemite) for both the numerical and the graphical part.
2016-04-29: Release of the 2.10.3 version. Few bugs fixed in the FML part. Automatic quadrature routine (mf/msQuad) improved. PNG driver improved for the creation of bitmap figures. Binaries versions are also provided for MinGW under Windows 64bit; for the first time FGL is also available under Windows but only the non-interactive routines are available.
2015-12-22: Release of the 2.10.2 version. Improvement in the FGL part (EPS driver) and few bugs fixed in the FML part. SuiteSparse package upgraded to 4.4.6.
2015-11-03: Release of the 2.10.1 version. Few improvements in the FGL part (background of figures is now white by default, not black; bold fonts are now supported both in X11 and EPS). Bug fix in msRat for very big real numbers.
2015-07-21: Release of the 2.10.0 version. Few bugs fixed in the graphics part (FGL). Added quadratic interpolation in mfInterp1. Fix bug for some FML routines when calling them with a temporary mfArray.
2015-06-16: Release of the 2.9.12 version. Many bugs fixed in the graphics part (FGL).
older news can be found here.

For any question, please contact the author:
Mail:



Come back to the author web page.
Last page modification: 2017-08-29