Feuilletages
avec Olivier Thom et Frédéric Touzet :


Two dimensional neighborhoods of elliptic curves:
formal classification and foliations.
Moscow Math. J. 19 (2019) 357-392. A special issue
in honnour of Yu. Ilyashenko. hal-01509317

avec Jorge Vitório Pereira et Frédéric Touzet :


Deformation of rational curves along foliations.
Ann. Sc. Norm. Super. Pisa Cl. Sci. (accepté)
hal-01671053 (2017)


Singular foliations with trivial canonical class.
Invent. Math. https://doi.org/10.1007/s00222-018-0806-0
view-only version - hal-00607116


Representations of quasiprojective groups,
Flat connections and Transversely projective foliations.
Journal de l'École Polytechnique 3 (2016) p. 263-308.

avec Maycol Falla Luza :

Projective structures and neighborhoods of rational curves.
hal-01567347 (2017)

avec Benoît Claudon, Jorge Vitório Pereira et Frédéric Touzet :


Holonomy Representation of Quasi-Projective Leaves of Codimension One Foliations.
Publ. Mat. 63 (2019) 295-305. hal-01499785.


Compact leaves of codimension one holomorphic foliations on projective manifolds.
Ann. Scient. Éc. Norm. Sup. 51 (2018) 1457-1506. hal-01247045


---
Uniformization

... a book with 15 authors about an old theorem :
(click the picture for more information)
intermediate free pdf version 16,6 Mo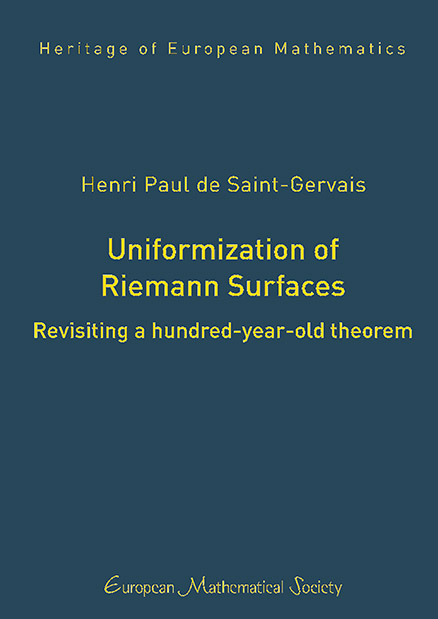 Isomonodromie
avec Karamoko Diarra :


Classification of algebraic solutions of irregular Garnier systems. (à la mémoire de Tan Lei)
Compositio Mathematica (accepté) hal-01862804 (2019)

avec Gabriel Calsamiglia, Bertrand Deroin, Viktoria Heu :


The Riemann-Hilbert mapping for sl2-systems over genus two curves. (en l'honneur d'Étienne Ghys)
Bull. SMF 147 (2019) 159-195. arXiv:1602.02273



Isomonodromic deformation of Lamé connections,
Painlevé VI equation and Okamoto symetry.
Izvestiya: Mathematics 80 1 (2016) p.113-166.
(volume à la mémoire d'Andrei Bolibrukh)
hal-01075998


---
Espace de modules de connexions
avec Valente Ramírez :

A map between moduli spaces of connections. hal-02338280 (2019)

avec Karamoko Diarra :

Normal forms for rank two linear irregular differential equations and moduli spaces. hal-02183978 (2019)

avec Thiago Fassarella :


Flat parabolic vector bundles on elliptic curves.
J. Reine Angew. Math. doi:10.1515/crelle-2018-0006
hal-01555245

avec Viktoria Heu :


Flat rank 2 vector bundles on genus 2 curves.
Memoirs of the AMS 259 (2019), no. 1247, v+103 pp. hal-00927061

avec Masa-Hiko Saito :


Lagrangian fibrations in duality on moduli spaces of rank 2 logarithmic connections over the projective line.
Int. Math. Res. Notices 2015 p.995-1043.
hal-00789255


---
Uniformisation

... la version française :
(cliquez l'image pour plus d'infos + version pdf libre)